Dr. Maurice G. Jenkins D.D.S., M.D.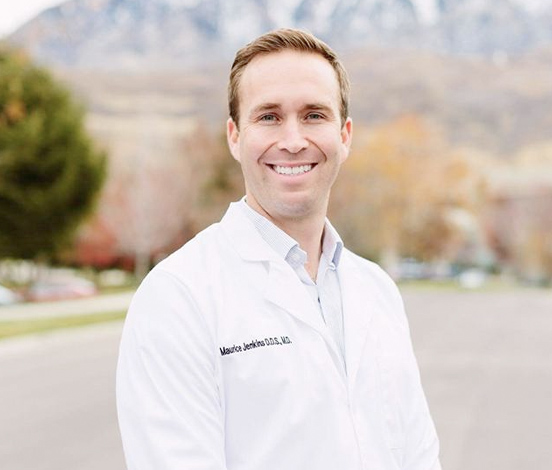 Dr. Maurice Jenkins was born and raised in Centerville, Utah. He received his undergraduate degree from Utah State University where he graduated magna cum laude. While at Utah State University, he received numerous academic and athletic awards, and was nationally ranked in his favorite athletic event, pole vaulting.
He attended dental school at Creighton University School of Dentistry where he also graduated magna cum laude. Dr. Jenkins then completed his Oral and Maxillofacial Surgery Residency at the University of Nebraska Medical Center. While there, he earned his medical degree from the University of Nebraska School of Medicine, completed an internship in general surgery, and served as Chief Resident of Oral and Maxillofacial Surgery.
During his residency he was trained in the full scope of Oral and Maxillofacial Surgery, which includes, wisdom teeth, implants, all other forms of dentoalveolar surgery, orthognathic surgery, facial trauma reconstruction, temporomandibular joint disorders, treatment of pathology of the jaws, and facial cosmetic surgery. When not involved in his profession, he enjoys outdoor activities, sports, music, and most importantly, spending time with his wife, three daughters and his son. His experience in all phases of Oral and Maxillofacial Surgery will afford him the opportunity to provide you and your patients with optimal consultation and treatment services.
American Association of Oral and Maxillofacial Surgeons / Utah Association of Oral and Maxillofacial Surgeons
American Dental Association / American Medical Association / Utah Dental Association / Academy of LDS Dentists
SCHEDULE AN APPOINTMENT